The Physical Literacy Consensus Statement for England has been revealed.

The statements represents a culmination of 18 months' work and explored the importance of physical literacy in providing positive experiences of movement and physical activity for all – a key priority in Sport England's Uniting the Movement strategy.

The Physical Literacy Consensus Statement for England has been developed to facilitate a shared understanding of physical literacy for those working in the sport, education, physical activity, recreation, play, health and youth sectors.

The statement offers a broad overview of physical literacy, why it matters, and how it can be developed and supported.

Developing consensus on the term physical literacy has been a priority as understanding what impacts people's relationship with movement and physical activity throughout life will enable those working in the sector to ensure their offer is as appealing as possible.

The consensus statement was created by an expert group of researchers and professionals, including those from Liverpool John Moores University, Coventry University, the University of Bradford and the University of Gloucestershire.

It was finalised following an extensive consultation and included feedback from those working and volunteering in the sport and physical activity sector.

Why does this matter?

Sport England's Active Lives surveys have told us that just 47% of children and 63% of adults are meeting the Chief Medical Officers' guidelines.

Furthermore, we know that 30% of children and 26% of adults do less than an average of 30 minutes activity a day.

There are also significant inequalities, with a person's ethnicity, gender, socio-economic status and age all impacting how likely they are to be physically active. However, research shows that children with high levels of physical literacy are twice as likely to engage in sport and physical activity and adults who feel strongly that they have the ability to be active, the opportunity to be active, and enjoy being active are also more likely to be active.

To help more people be active it is important everyone involved in the provision of sport and physical activity understands that there is more to it than helping someone develop their physical movement skills.

We must also consider how a person moves, connects, thinks and feels about movement and how their environment, culture, community or places and spaces they move in can powerfully influence their relationship with movement in both positive and negative ways.

By understanding what contributes to a person's physical literacy, we can adapt and evolve our policies, practices and programmes to ensure it meets all of their needs.

What happens next?

The consensus statement itself will be supported by a series of resources that help bring the concept of physical literacy to life for our sector, including audio stories and a more detailed booklet to situate the consensus statement into a wider context.

Sport England will continue to work with national and local organisations to embed the philosophy of physical literacy into the structures and systems that influence children and young people's activity levels.

The statement in full

Positive Experiences for All: The Physical Literacy Consensus Statement for England in full

Physical literacy is our relationship with movement and physical activity throughout life.

Understanding physical literacy

Physical literacy refers to the degree to which we have a positive and meaningful relationship with movement and physical activity. It is a complex and ever-changing relationship.

It reflects our connection and commitment to movement and physical activity, influenced by various factors such as our thoughts, feelings, engagement, and experiences.

Why physical literacy matters

The quality of our relationship with movement and physical activity profoundly influences our choice to be active.

Having a positive and meaningful relationship with movement and physical activity makes us more likely to be and stay active, benefiting our health, well-being and quality of life.

Supporting physical literacy

How we move, connect, think and feel during movement and physical activity plays a crucial role in shaping our physical literacy.
By doing activities that we enjoy, find meaningful, and value, we deepen our connection with movement and physical activity, and foster an ongoing commitment to maintain an active lifestyle.
Our experiences affect our physical literacy

The people we interact with, the communities we are part of, the culture we experience, and the places and spaces we move in, powerfully influence our physical literacy. These influences may be positive or negative.

Positive experiences of movement and physical activity that meet our needs and support our development encourage us to be active in the future.

Physical literacy is personal

Everyone has their own strengths, needs, circumstances, and past experiences that affect their relationship with movement and physical activity. Our physical literacy is therefore unique, and changes over our lifetime.

Tim Hollingsworth, chief executive, Sport England said:

"We must ensure children and young people have positive experiences of sport and physical activity that are fun, inclusive and help them develop.

"The new Physical Literacy Consensus Statement for England provides a framework to help us explore this in greater depth and is relevant for all ages and everyone working to improve the activity levels and health of our nation.

"It must be seen as one of the first steps in our efforts to promote positive experiences and lifelong participation for all children and young people, but particularly for those who face the greatest inequalities. Putting the concept of physical literacy into practice is now our collective task."
"Giving every child the confidence to experience swim, bike, run."
We are proud to announce a new partnership with British Triathlon. We want to support British Triathlon on their mission to increase awareness of the opportunities available to all schools and young people to experience swim, bike, run.
British Triathlon are the national governing body for triathlon, duathlon and associated multisport in Great Britain. British Triathlon aims to give every child the confidence and opportunity to experience swim, bike, run by combining playing and learning to teach children essential skills that can be used in all aspects of life.
To encourage more children to swim, bike and run, we have added a selection of resources from British Triathlon's Active Skills For Life programme onto Complete PE.
We hope that by adding these resources to Complete PE, this will enable schools to explore a wide range of new activities that their pupils may not normally have the opportunity to experience.
You can find out more about British Triathlon, their Active Skills for Life programme and the support they offer to schools by clicking here.
Last term, we asked our member schools to complete a short survey to provide us with their feedback, so that we can continue to develop and improve Complete PE.
We were delighted to learn that since implementing Complete PE, 95%* of schools say that the confidence of all staff has increased when teaching Physical Education. *An increase of 2% compared to last year's Satisfaction Survey.
Here is a summary of some of the data and feedback obtained from the survey.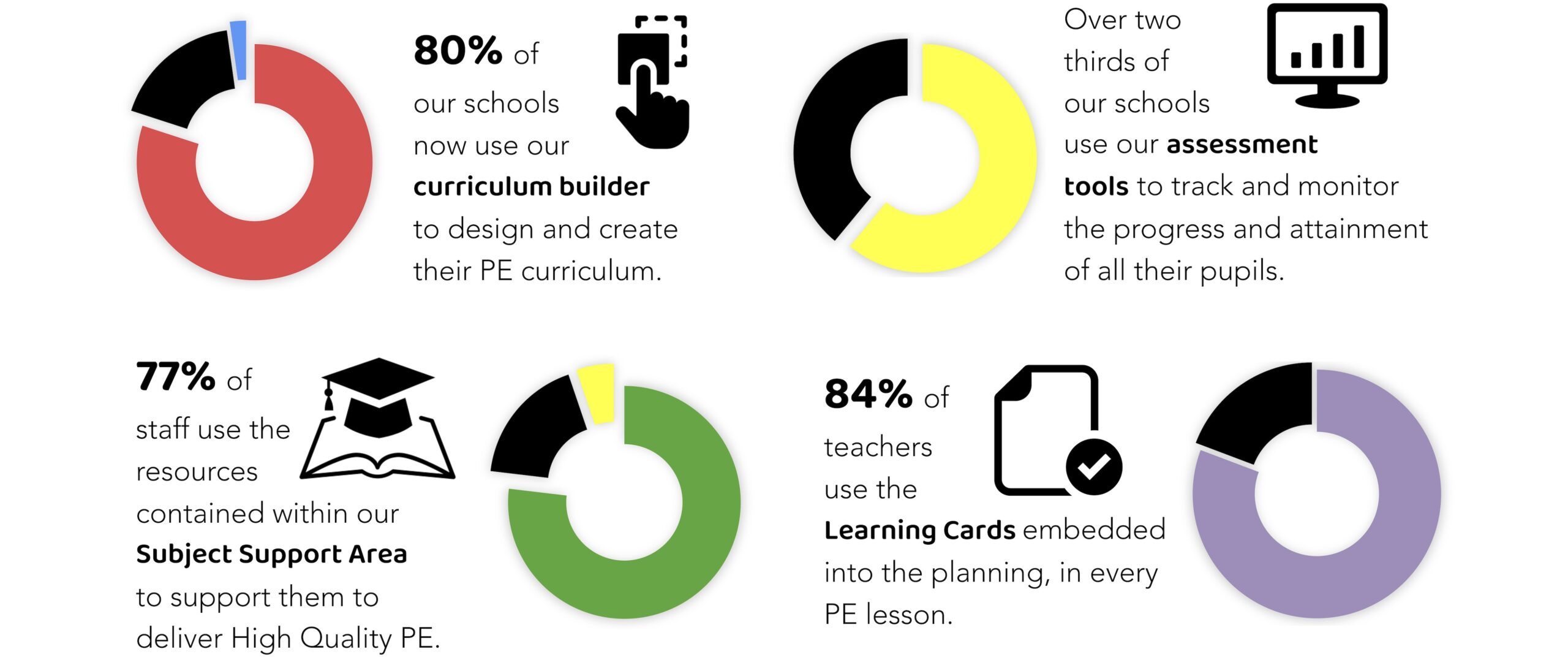 From the survey, the data also showed that 92%* schools who implement Complete PE, say that there has been a positive impact on Physical Education across the whole of their school. *An increase of 3% compared to last year's Satisfaction Survey.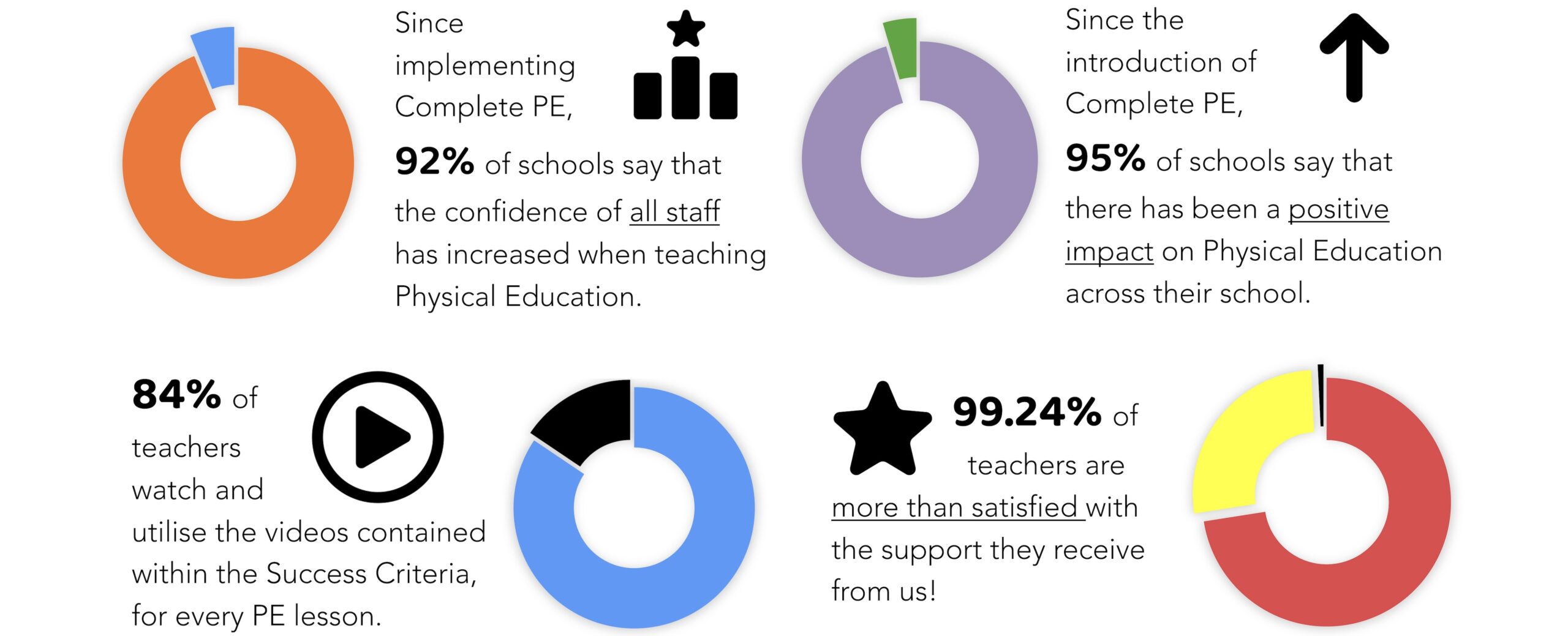 We always welcome hearing your ideas and suggestions on how we can continue to develop Complete PE.

Thank you to all the schools who completed the survey.
We have made some exciting changes to Complete PE over the summer, to ensure our platform and resources are even easier to use. Here are just some of the changes we have made to Complete PE ahead of the new school year!
Complete PE is now even easier to navigate
We have update the home page on Complete PE, making it even easier for teachers to navigate their way around our platform.
You can copy over your curriculum map
Schools can now choose to copy over their curriculum map from previous years, saving valuable time and effort.
We've updated our Learning Cards
We have update over 1500 learning cards. The cards have a brand-new look to them as well as some new ideas to adapt learning.
You can download your curriculum map
Schools can now download (and print) their curriculum maps.
We've started to create brand-new Adaptive PE Cards
These resources will support pupils with additional needs and will continue to be added to Complete PE throughout the year.
We hope enjoy the changes we have made to Complete PE.
We have recently added some brand-new units of work and resources onto Complete PE.
Schools who have purchased one of our Ownership & Membership packages or choose to subscribe to an Annual Pass next academic year, will have access to the following brand-new units of work on our platform.
EYFS Rackets, Bats Balls and Balloons Unit
Our brand-new Rackets, Bats, Balls and Balloons unit created for EYFS will introduce pupils to striking (hitting and pushing) and sending in a fun and engaging way that's inclusive to all pupils.
Street Art and Prejudice & Discrimination Dance Units
Our new dance units for year 5 (Street Art) and year 6 (Prejudice & Discrimination) explores two themes that will engage all pupils, but particularly any reluctant learners too.
KS2 Game Sense Invasion Units (Year 3-6)
Our Game Sense (Invasion) units of work will provide schools with an opportunity to teach the principles of attack and defence, without linking the learning to a specific sport or activity.
We really hope that you enjoy using these new units and we have already started creating more units that we will add onto Complete PE throughout the forthcoming academic year.
National School Sports Week 2023 is back, and this year we are supporting the Youth Sport Trust on their mission to make sure that all children in the UK are active for the recommended minimum time of 60 minutes a day.
As a Changemaker Business Partner of the Youth Sport Trust, we will be supporting them on their mission to encourage as many of our schools, partners and friends to make the #PledgeToPlay.
The pledge supports the government ask that children are active within school for 30 minutes a day, and then outside of school for at least another 30 minutes, supporting every child to reach the minimum amount of 60 active minutes.
Schools and partners who make the pledge, will be given access to a range of supporting materials and resources from the Youth Sport Trust to help achieve the 60 active minutes.
To sign up and show your support for National School Sport Week, click here to register*!
*This is an external link to the Youth Sport Trust website.
We have created some brand-new resources to support schools to design and facilitate an active and inclusive Sports Day!
Firstly, we have created a booklet that includes different ways to structure a Sports Day, as well as ideas on how to set up and adapt various athletics-based events.
In addition to the guidance booklet, we have produced some extra resources to help you celebrate your Sports Day too. These include a selection of House (team) and Life Skill focused certificates.
All our member schools now have access to these fantastic new resources on Complete PE.
Last week, we were so excited to learn of the major Government announcement and their commitment to PE and School Sport funding for at least the next two academic years.
The full package announced included the continuation of the Primary PE and Sport Premium as well as a greater push for schools to deliver a minimum of 2 hours of curriculum Physical Education. With two more years of SGO funding and equal access to sport in school, there's lots to be excited about!
The full details of the package announced by the government can be read here.
It is vital that schools use the PE and sport premium funding to make sustainable improvements in the following five key indicators:
Increased confidence, knowledge and skills of all staff in teaching PE
Engagement of all pupils in regular physical activity
The profile of PE and Sport is raised across the school as a tool for whole school improvement
Broader experience of a range of sports and physical activities offered to all pupils
Increased participation in competitive sport
So how can Complete PE help?
Our scheme of work, supporting resources and in-built training will support schools to ensure that all teachers feel confident to enjoy teaching Physical Education. This means that by implementing Complete PE, schools are making a big impact in Key Indicator 1.
Using Complete PE, all of our lessons and units promote highly active participation from all pupils, inspiring pupils to want to lead healthy active lives. Schools can monitor and record the activity levels of all pupils, enabling schools to see impact under Key Indicator 2.
Because Complete PE has success outcomes (physical, cognitive, social and emotional) that will challenge the personal development of every child, Complete PE is therefore supporting whole school improvement, helping every child to succeed. This ensures that schools make a significant and long-term impact under Key Indicator 3.
There is more content on Complete PE than a school could ever utilise. This enables schools to design a broad and balanced curriculum, ensuring that learning is well sequenced and pupils are given enough time to learn. This meets the objectives schools under Key Indicator 4.
All of our units of work conclude in a celebration of learning! With links to the Schools' Games website imbedded into our units of work, Complete PE will support every school to increase their participation in competition, generating impact under Key Indicator 5.
To find out more about how Complete PE can support your school, then get in touch with us.
The Government have today confirmed that the Primary PE and Sport Premium will continue for at least the next two academic years (2023-24 and 2024-25).
In addition, a further £22 million of funding for the nationwide network of 450 School Games Organisers will be made available too.
Both sets of funding will provide support for the next two academic years and will help schools to ensure PE and School Sport are inclusive, engaging and fun for all young people, allowing every child the opportunity to compete.
More information on this welcomed announcement can be found by clicking here.
To celebrate World Book Day this year, we have collaborated with Enrich Education to bring to life the fictional sport of Quidditch, which is played in the fantasy book series Harry Potter.
All schools using Complete PE will now have access to our brand-new Quidditch units (Year 3 – 6) and all the supporting resources, including:
120 Success Criteria Videos
40 Learning Cards
12 Summative Assessment Statements
4 Knowledge Organisers
A Knowledge Progression Journey
All schools can now start using these new units on Complete PE and we hope that you enjoy teaching them as much as we enjoyed creating them!