What is Complete PE?
Complete P.E. is an interactive Physical Education resource designed to support the implementation of a High Quality Physical Education Curriculum.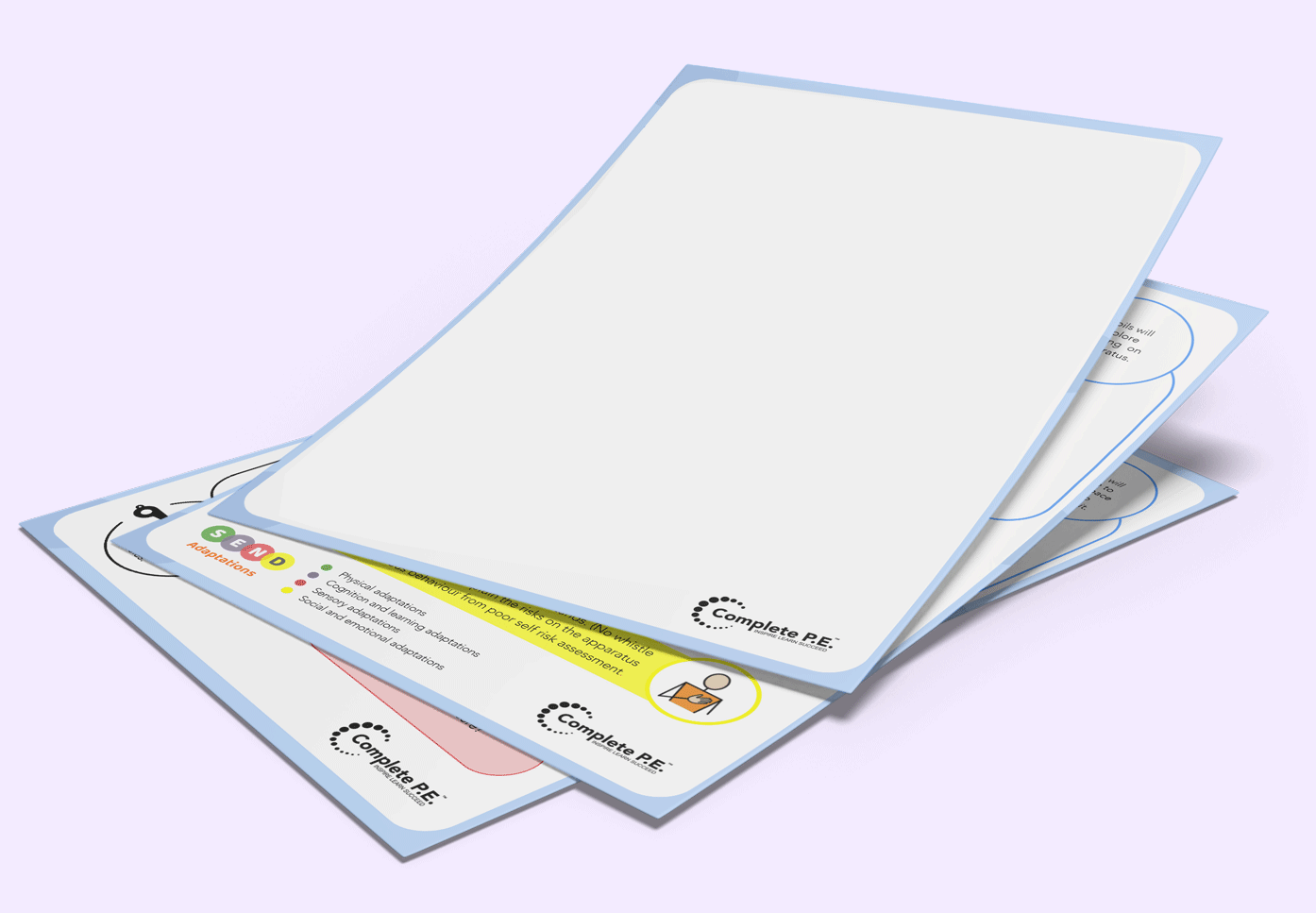 A Progressive Scheme of Work
We have units of work, covering all areas of the Physical Education National Curriculum for EYFS, KS1 and KS2, with transition units available to bridge the gaps into KS3.
Create packages to suit your school's needs.
Resources that 'Bring Learning to Life!"
Ensure all teachers feel confident to enjoy teaching PE.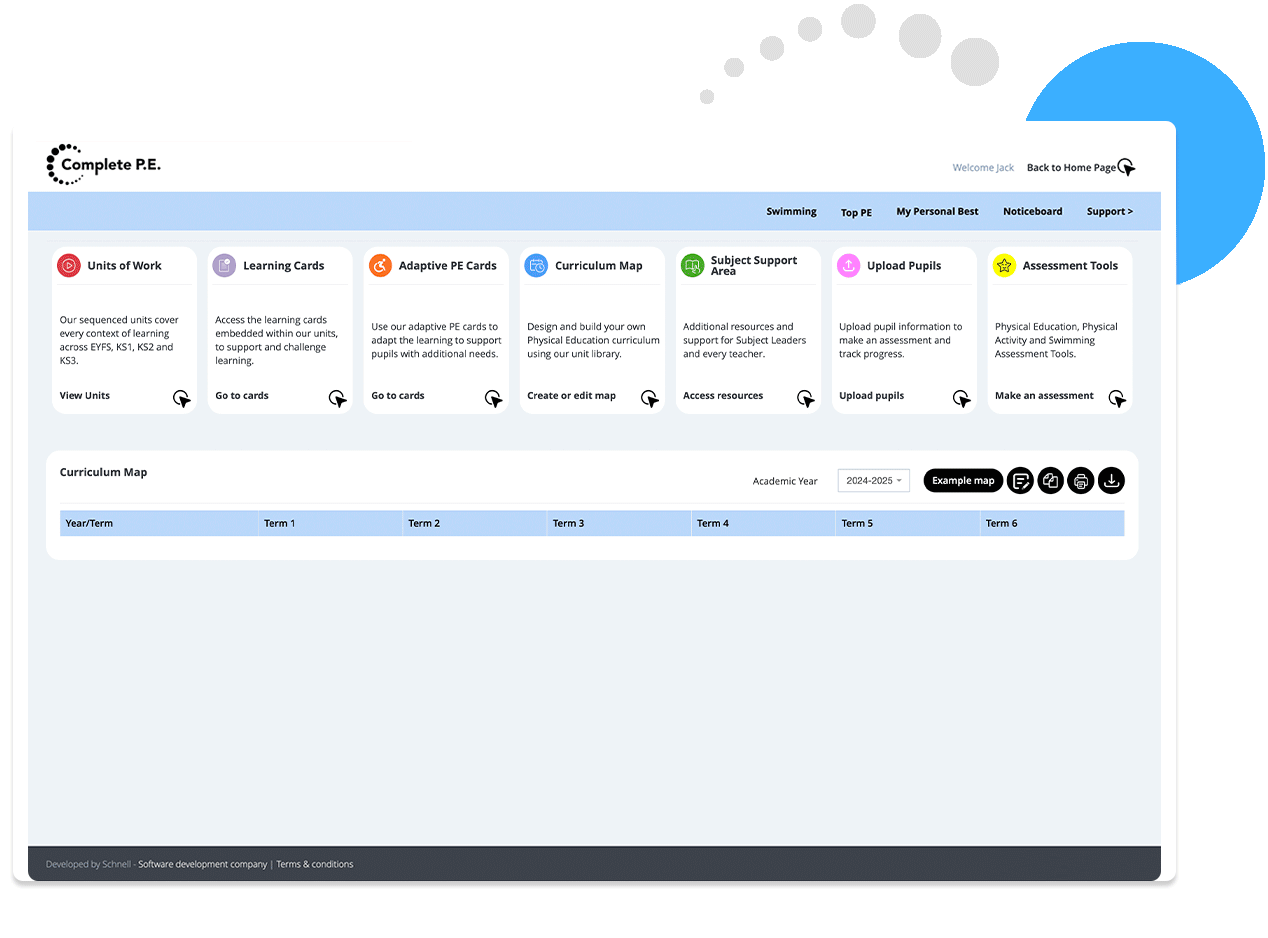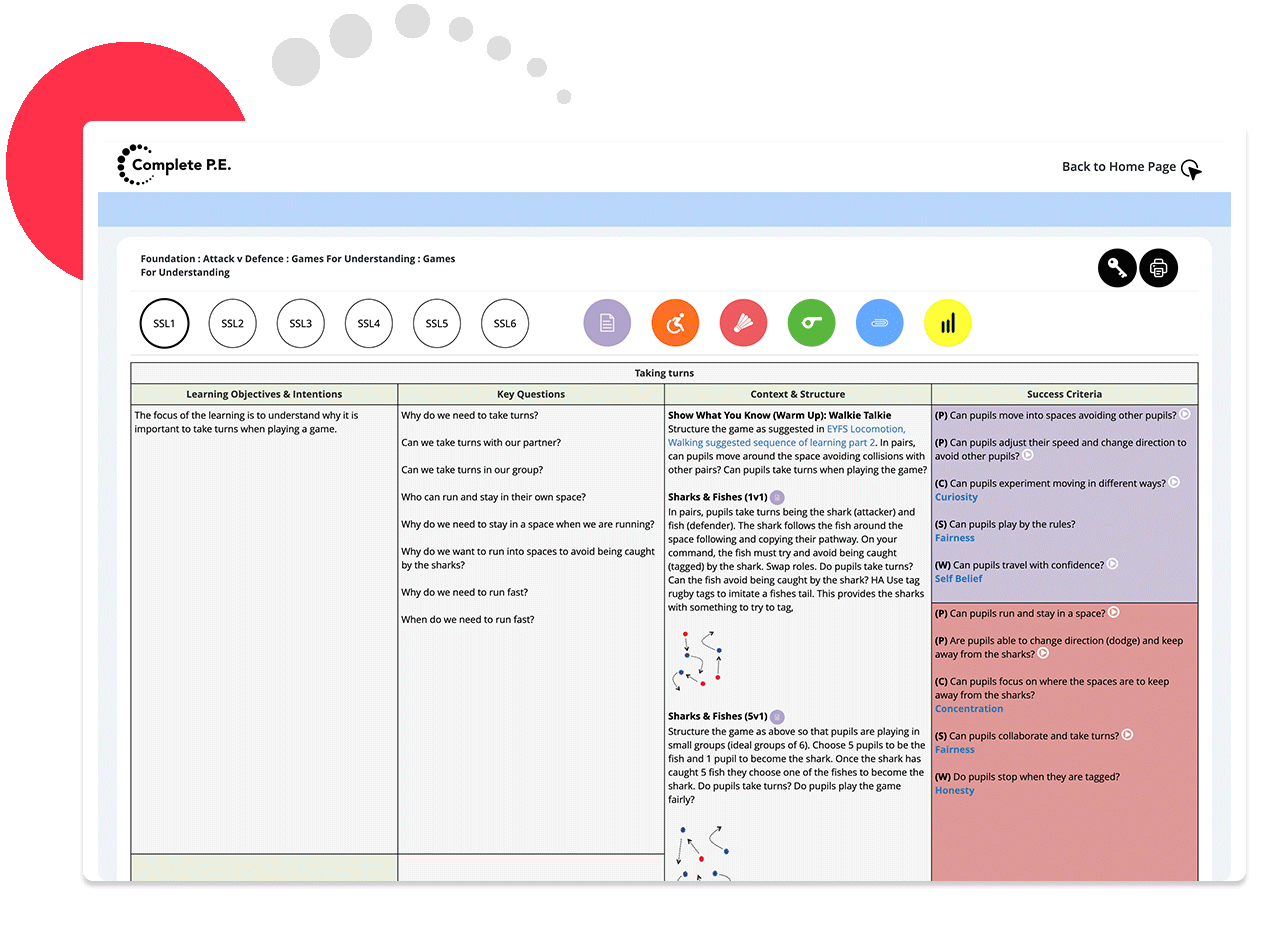 Planning
Our unit library contains units of work for every context of learning. Our Primary units of work flow in a progressive and sequential order from EYFS to KS2, ensuring that we are always challenging learning.
Clear and progressive planning to support every child's learning.
Planning that supports high quality teaching and learning.
Success outcomes that challenge and develop 'The Whole Child'.
Learning Cards
Our Learning Cards are embedded within our planning, providing teachers with additional support and ideas to confidently adapt learning to meet the needs of all their pupils.
Over 1500 cards embedded within the planning.
The cards will support teachers with ideas and adaptations.
Pupils can peer and self-assess using the cards, personalising their own learning.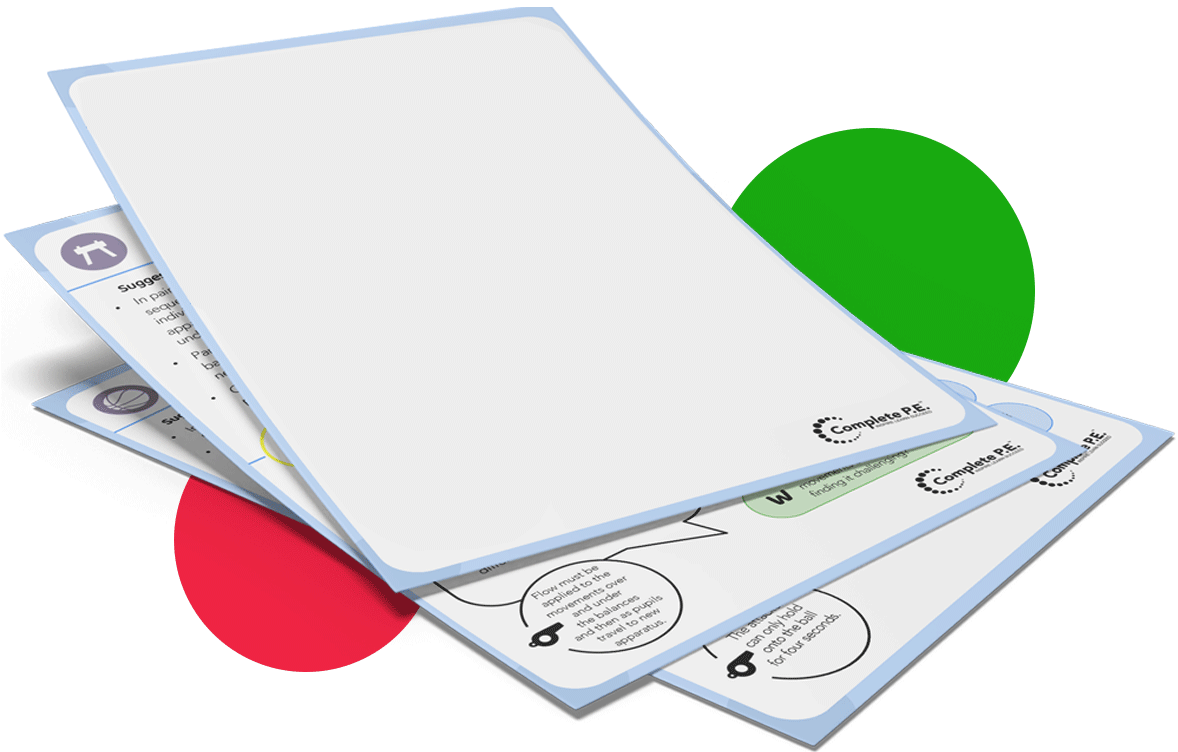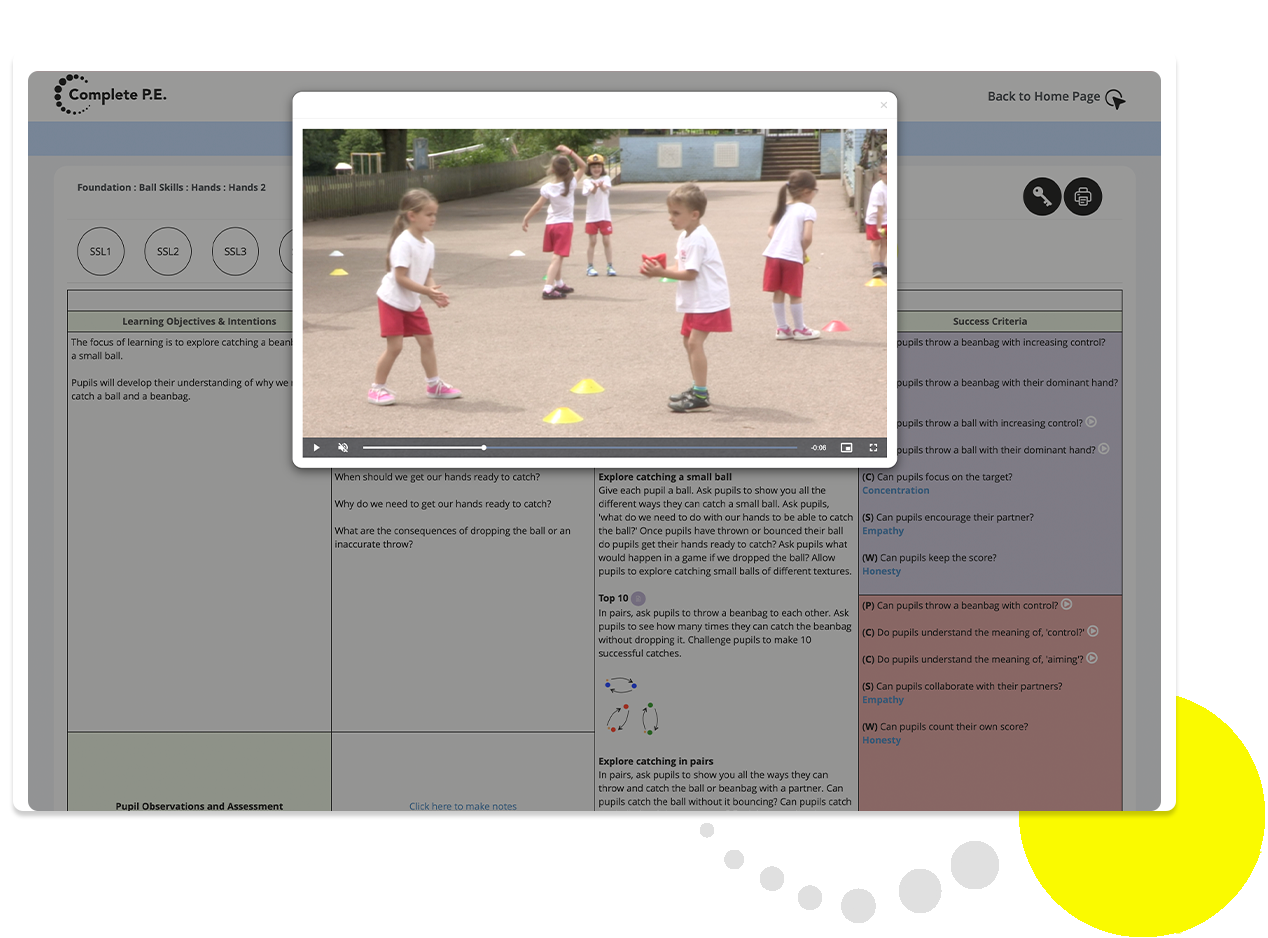 Interactive Videos
Accompanying each success criteria is an interactive video. These videos demonstrate successful age related learning and provide a valuable training tool as they bring the lesson and the learning to life.
Over 7000 videos showcasing successful, age related learning.
Videos that demonstrate physical, cognitive, social and emotional success.
The videos will provide ongoing CPD for every teacher.
Curriculum Mapping Builder
Schools can use our Curriculum Mapping Builder to design and create their own Physical Education curriculum, selecting content from our extensive unit library.
Design and create your own bespoke curriculum.
Ensure pupils have access to a progressive, broad and balanced curriculum.
Reference your own bespoke units of work on the curriculum map.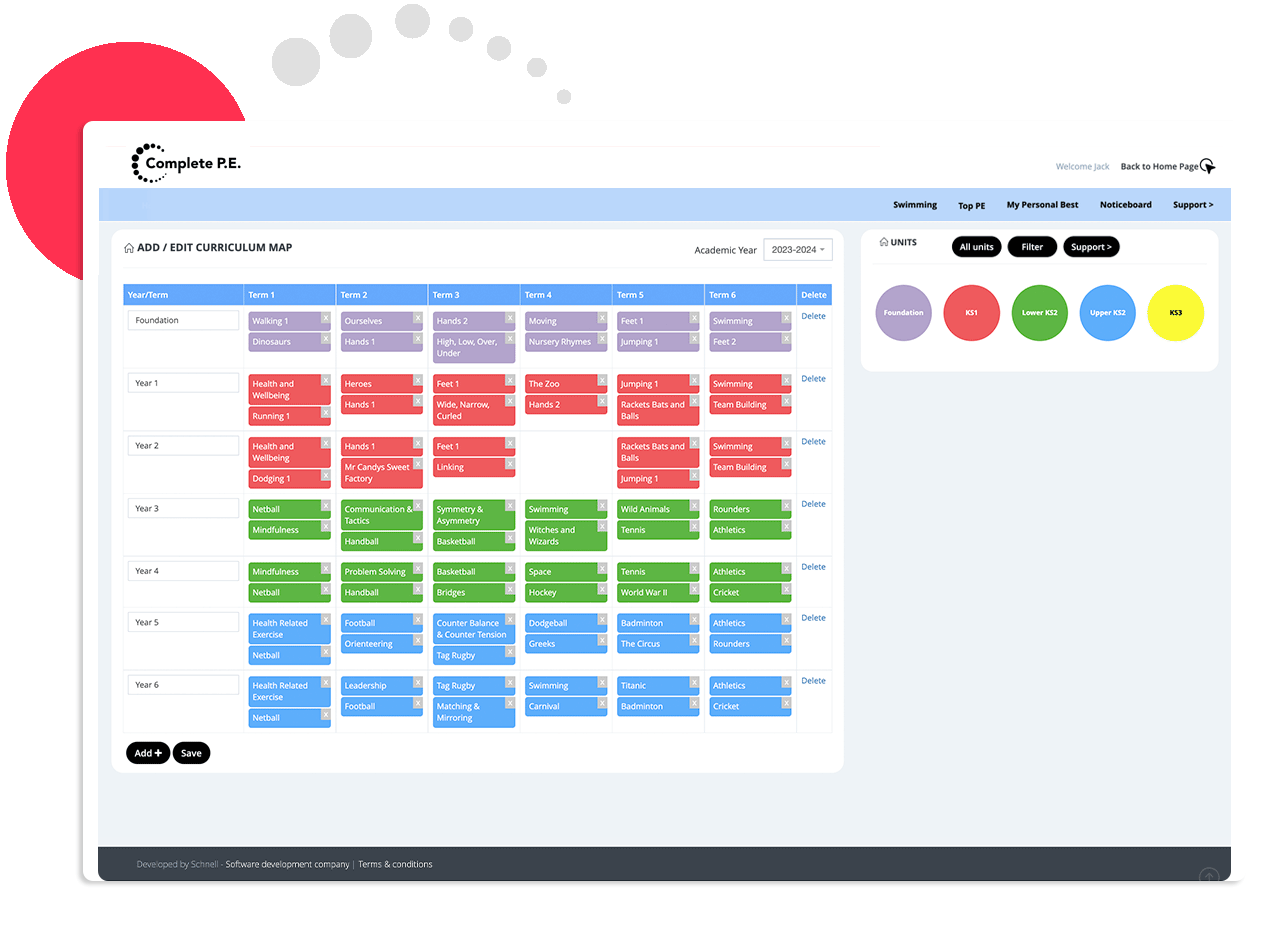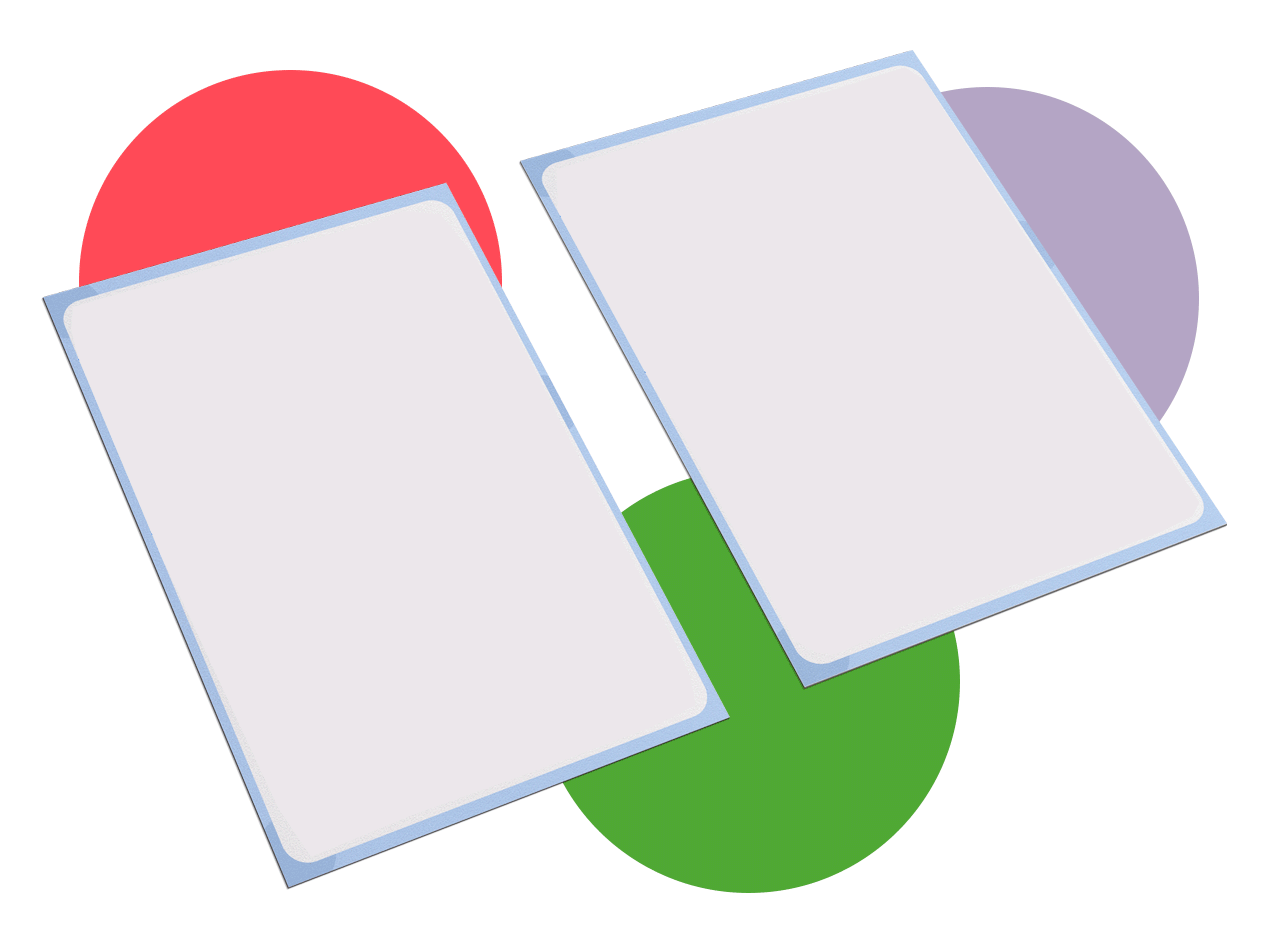 Adaptive PE Cards
Our Adaptive PE Cards will provide teachers with a range of ideas to adapt the learning to support pupils with additional needs.
Over 1250 cards embedded within the planning.
Ideas and adaptations to support SEND pupils.
Ensure every pupil is fully included in Physical Education.
Subject Support Area
Our Subject Support Area contains webinars, training and other resources to ensure every teacher can confidently enjoy delivering high quality Physical Education.
Access support to help prepare for a 'Deep Dive'.
Ongoing bespoke Subject Leader Support.
Every teacher can access webinars, workshops and additional resources.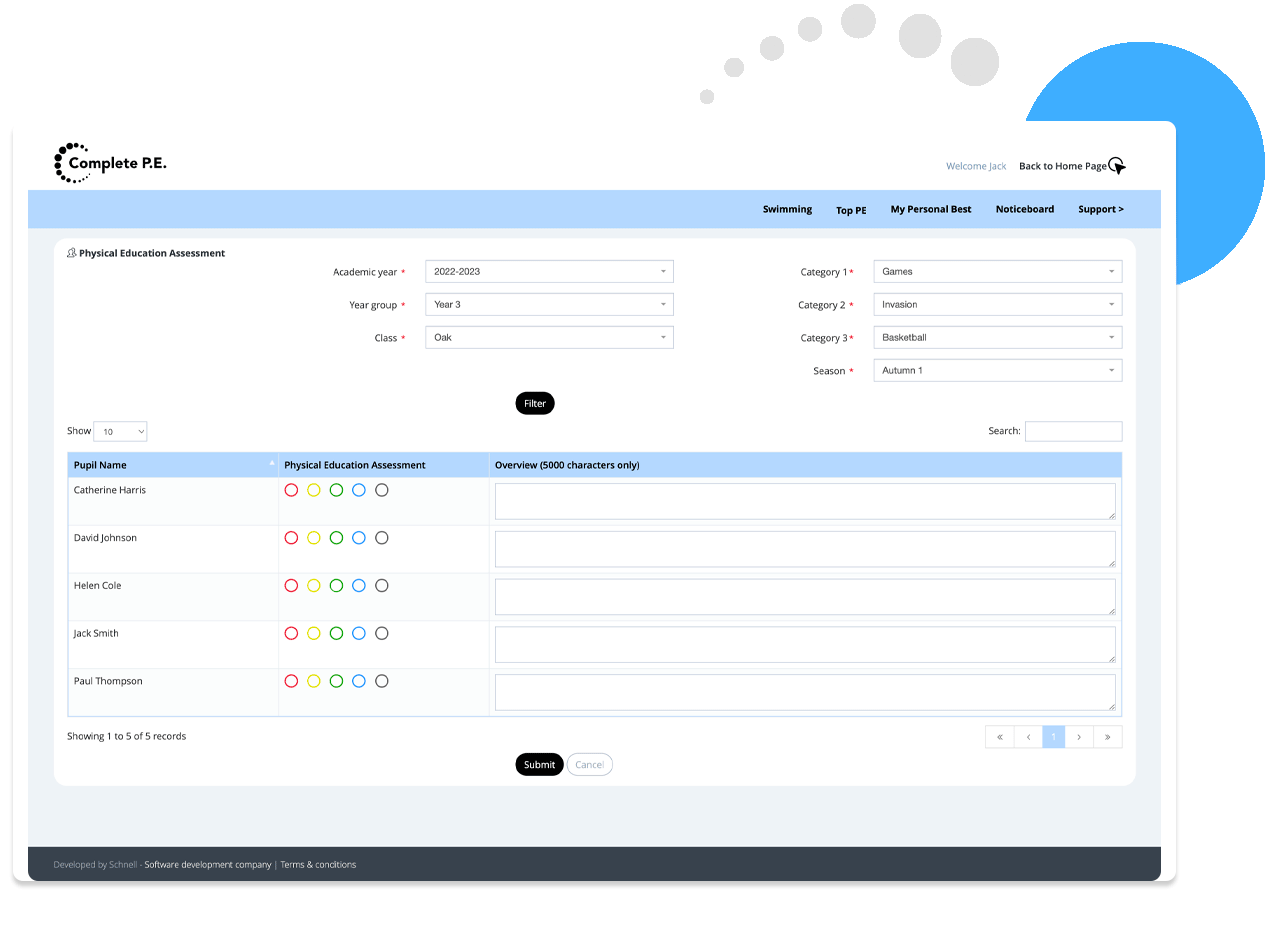 Assessment Tools
Our inbuilt assessment tools allow teachers to record pupils' PE attainment, track pupils' swimming progress and monitor pupils' Physical Activity levels.
Complete quick and meaningful summative PE assessments.
Track the % of pupils on track to meet age related expectations.
Automatically produces summative reports and assessment statements.
Youth Sport Trust Resources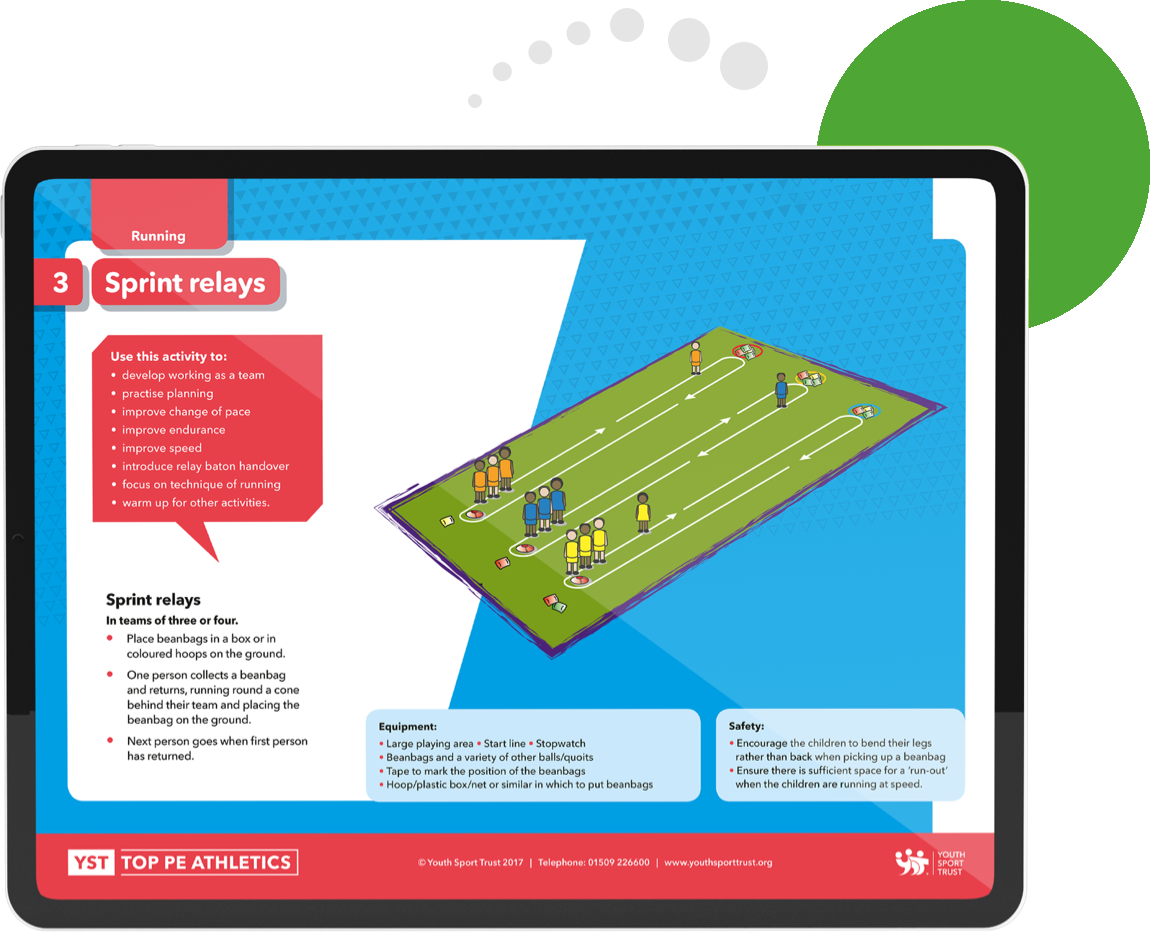 YST TOP PE
Digital access to the 75 TOP PE resource cards embedded within each unit.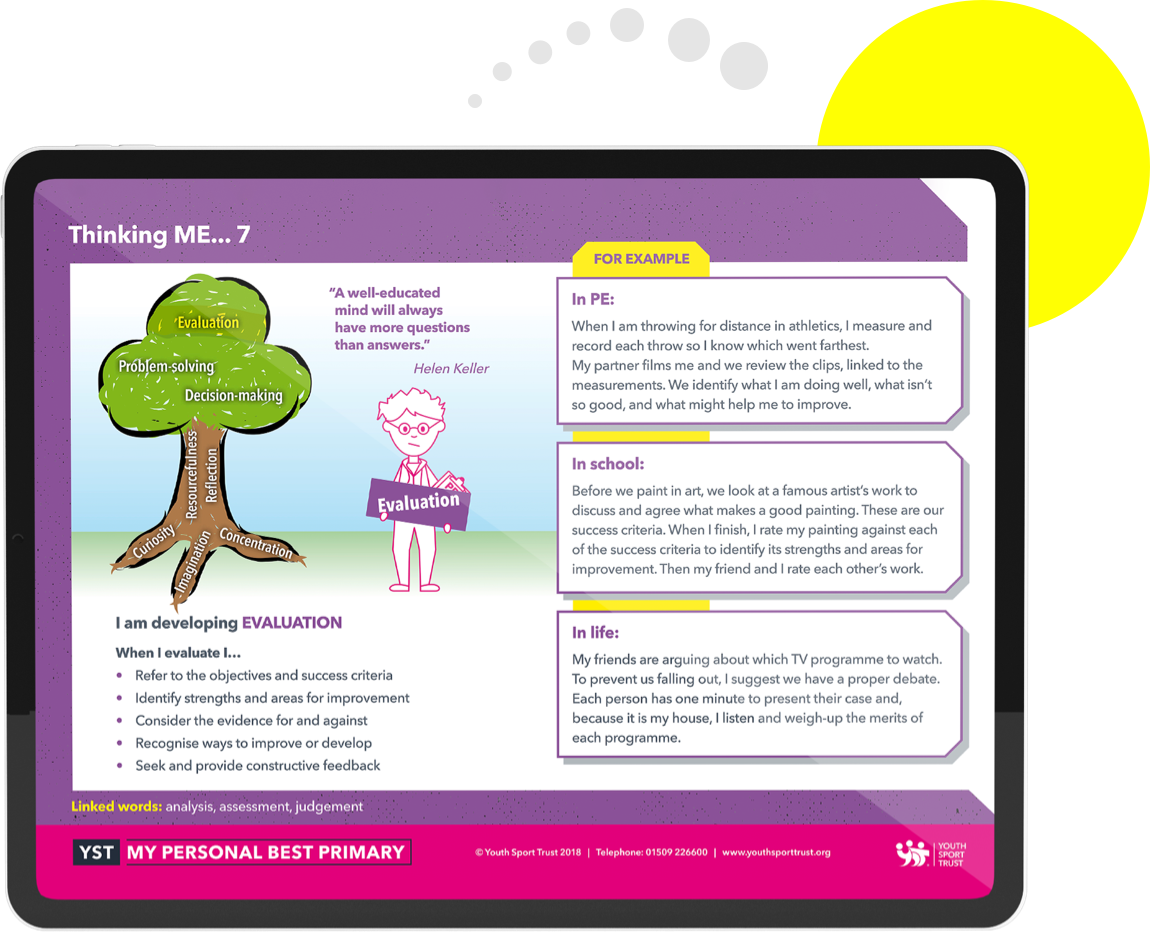 YST My Personal Best
Digital access to the MYPB teacher and learner cards embedded within each unit.

School Swimming and Water Safety Resources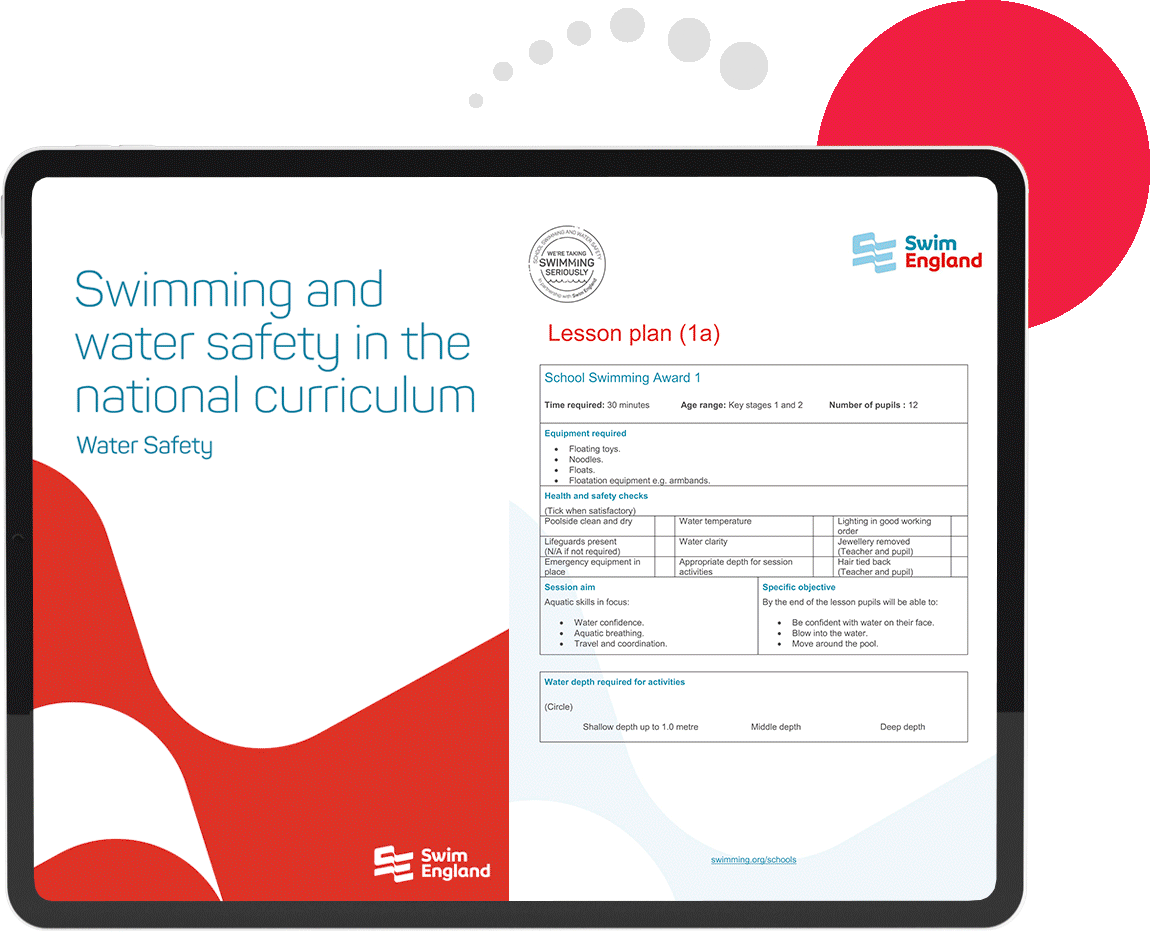 Let us show you the impact Complete PE can have in your school.
Book
a Demo
Results
Hear what some of our members have to say about the impact Complete P.E. is having in their schools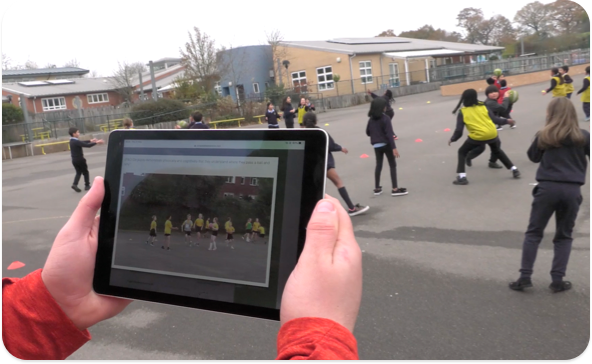 Video
"Helped us align the delivery of PE from reception all the way up to year 6″.
Ashleigh Steveson-Leigh is a PE Lead and discusses how he now knows his teaching staff have the confidence and support to deliver across the whole curriculum.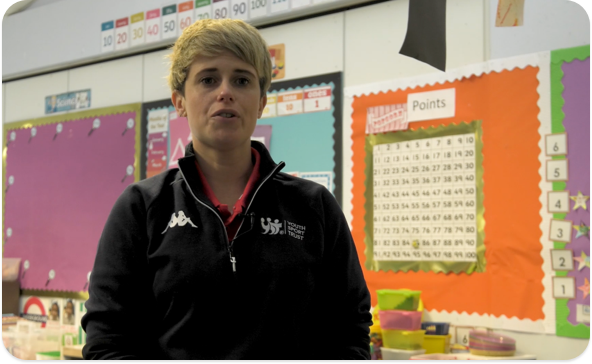 Video
"aligning really nicely with the new Ofsted framework".

Emma MacKenzie-Hogg the Primary PE & Achievement Lead at the Youth Sport Trust discusses how Complete P.E. compliments the Youth Sport Trust 'My Personal Best' resource and more.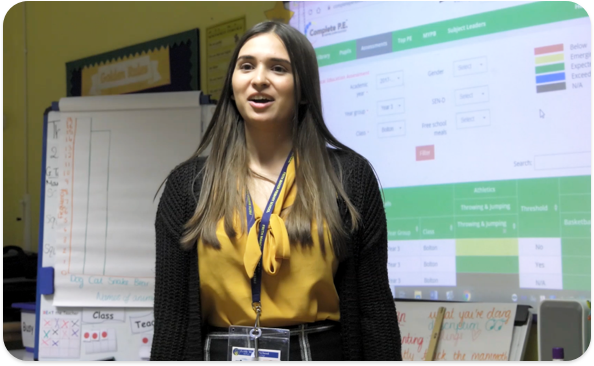 Video
"I found assessment really simple to use".
Sara Parathamby is a KS2 Teacher and discusses how she uses the assessment tools and the impact that this is having on the children's progress and areas she can focus on.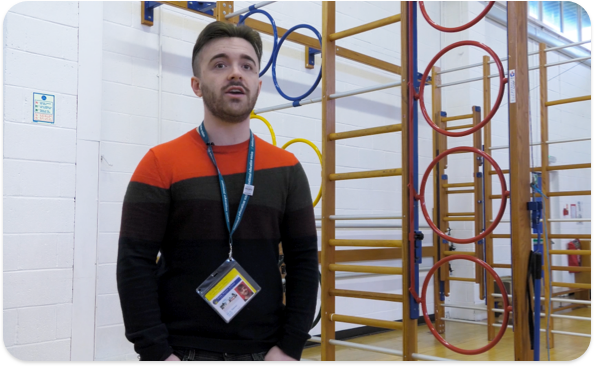 Video
"Clarity on the PE Curriculum has been the biggest help".
Gabriel Reeves is a KS1 Teacher and been using Complete PE for 18 months now. Hear how he's embedding 'outstanding' Physical Education into his Primary School.